The VA Home Loan is one of the
BEST loan options out there!
* The VA interest rate is currently LESS than the Conventional rate.
* There is NO mortgage insurance = LOWER payment
* The VA home loan goes up to 100% market value!
On a home PURCHASE, no Down Payment is needed!
On a REFINANCE, we can refinance ANY current home loan…FHA, USDA or Conventional…into a VA Home Loan.
FOR THE MONTH OF NOVEMBER 2023: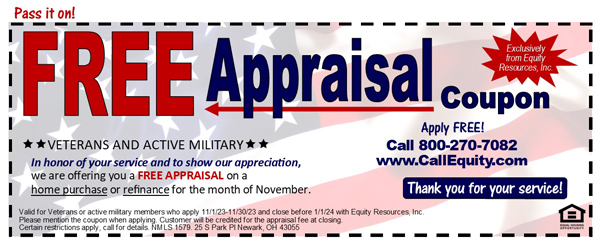 How a VA Home Loan Works
A VA loan is a mortgage loan in the United States guaranteed by the U.S. Department of Veterans Affairs (VA). The VA home loan is one of the best options available for Veterans since there is no mortgage insurance required. The loan may be issued by qualified lenders. Equity Resources' in-house underwriting team is approved to review VA appraisals and issue a Notice of Value for VA loans. This allows us to close your VA loan even faster!
Purchase Highlights
Buy a home with no money down (primary home)
No monthly PMI (Private Mortgage Insurance)
Refinance Highlights
Refinance any mortgage into a VA loan (not just an existing VA loan)
Refinance up to 100% of your primary home's value
Cash out to 100% of your primary home's value
VA Streamline Refinance with a reduced funding fee and flexible documentation requirements – available for veterans currently in VA loans
VA Loan Benefits
No down payment
Low competitive rates
No monthly PMI
Unlimited seller contribution
In-house underwriting
Final approval is subject to credit review and eligibility. Certain restrictions apply.
Call 1-800-270-7082 for current rates and terms.