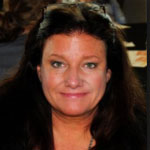 Branch Manager
I am privileged to work with my husband, Steve, at Equity Resources, in an area we both love. When my family moved to Cary in1968 the population was around 7600. Today, we are the seventh largest metropolitan area in the state with a population of over 150,000! Steve and I met at Cary High School, and we remember when Kildaire Farm Road had a couple of FARMS on it and the Cary Parkway was just a good idea.
I'm second generation "mortgage." As I grew up in a home where everyone spoke about the economy and the mortgage and real estate business... I'm an Economic News Junkie and often write about events that are moving the housing industry and mortgage interest rates. It's important to me that folks understand that I'm not writing about the "gloom" and "ruin" of the mortgage industry - I'm simply looking for lower mortgage interest rates. Typically, bad news in the economy spells good news for mortgage interest rates.
Steve and I were named one of the top Origination Teams in the State (by the NC Association of Mortgage Professionals) and Mortgage Originators Magazine. As entrepreneurs, one of our companies received the coveted Triangle Fast 50 Awards by our Business Journal three years in a row.
Our Commitment
We've been involved in Mortgage Lending since the early 1980's. There is a vision that drives us to do what we do. Simply put, we want to help you create the financial strategy that allows you to live life to the fullest. That requires that together we establish goals, define priorities and determine what's most important to you.
On any given hour of a day, mortgage lending experiences subtle shifts that can create huge forces of change for our customers. We are dedicated to a life of continually educating ourselves in the broad areas of economics, politics and financial planning... and of course we stay on top of the Mortgage Industry News too!
Our Family, Our Community
As active members of the Cary Chamber of Commerce, the YMCA and our church, we have become friends and mentors to local businesses and charities. We've worked hard to raise money and awareness for the "We Build People Campaign" at the YMCA and the American Cancer Society "Relay for Life."
We are so fortunate to have our children and parents in NC. Our daughter is attending the School of Music at UNCG, and our son and his wife added a grandchild to our family earlier this year.
The Company We Work For
Equity Resources operates as a mortgage banker. We are authorized to handle FHA, NC Housing, VA, USDA... and represent an array of conforming, conventional lenders. We have offices in NC, and we are licensed in a total of 14 states. Our team is built upon the same foundation we built our business relationships on. We constantly strive to build a team that embraces and adheres to the values we consider most important... as one of our clients you can be assured that everyone on our team to look out for your best interests!
It's important that we educate our customers on market conditions, and the events that might change those conditions, as we help find the BEST solutions for your situation!
NMLS 67179
201 Shannon Oaks Cir, Ste 204
Cary, NC 27511
L-134393-105
Office Phone: (919) 649-5057
Fax: (919) 882-8970
Email: EThorne@callequity.com