In February 1993, after opening a centralized Pittsburgh mortgage office for a Fortune 500 Company, Ed Rizor formed Equity Resources, Inc. with the intention of brokering first mortgage loans. Due to strict licensing for mortgage brokers by the State of Ohio, licenses were applied for and received and the first office was opened in May 1993. In January 1994, licenses were applied for and approved in Pennsylvania and Equity Resources opened its first office in Pennsylvania under the DBA Pennsylvania Equity Resources.  William Skerbetz was the first employee hired in February 1994 and he managed and brokered loans from the Pittsburgh office.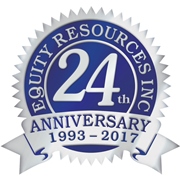 As business increased for Ed in Ohio and more lender programs were added, Ed hired his first Ohio employee in March 1994, Kelly Maltby Welch. Kelly brought several years of banking experience with her when she relocated from Cleveland to Newark and began with the company as a loan officer. Equity Resources incorporated in June 1994 and is now Equity Resources, Inc. In Pennsylvania, the license was approved with a slight variation in the name as Pennsylvania Equity Resources, Inc., an Ohio Corporation.
Beginning in January 1995, hiring was increased in Ohio by adding additional loan officers and loan processors. We negotiated a larger office space on the 3rd floor of the building we were located at to accommodate the increase in production. In 2002, Ed and Tracy Rizor purchased the historic downtown Newark building and it remains our corporate office today. In 1996, our Pennsylvania office expanded as well and moved to Carnegie, Pennsylvania (near Pittsburgh) and added employees to serve the influx of business that was being generated in that market.
Since 1996, Equity Resources, Inc. moved from brokering loans to a mortgage banker. We are an approved seller/servicer with Fannie Mae, Freddie Mac and Ginnie Mae. We are currently licensed in 16 states plus Washington D.C, and have 27 branch offices located in Connecticut, Florida, Maryland, Michigan, New Hampshire, North Carolina, Ohio, Pennsylvania, South Carolina and Virginia. We offer Conventional, Jumbo, FHA, VA and USDA financing.
Equity Resources, Inc. bases its business model on our proven commitment to improving the lives of families through raving fan customer service. Our vision is 100% compliance and quality growth. We originate 100% retail with goals for each customer. We believe in creating relationships with affinity partners and strive for each customer to become a raving fan…. simply put we want to always be "one step ahead of the industry; service that leaves the customer pleasantly surprised and passionate about our services." We provide experienced, centralized processing, marketing, and underwriting trained in FHA, USDA, VA and Conventional financing. We offer a competitive loan officer compensation program and attract qualified, experienced, licensed professionals with the opportunity to utilize our state of the art system for helping them build their business. We require our loan officers to put together a business plan yearly and our company business plan is based on the compilation of these. Our company goals include honoring our core purpose and core values, 100% compliance mindset, align professional goals to our jobs, and to continually change to staff accordingly. These goals are shared with all employees at our Vision Meeting held annually. Sharing the company's vision with each employee is the cornerstone of our company's success.
The first two employees, William Skerbetz and Kelly Welch still remain as employees today. We actually have many other employees that have been in our company 10+ years due to the quality culture and integrity of the company.