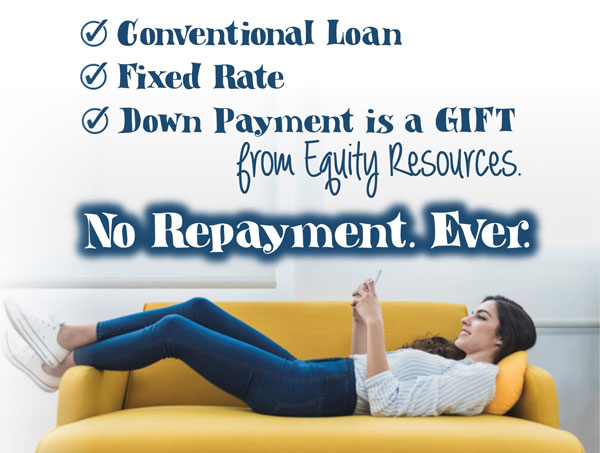 Conventional Home Loan + Down Payment GIFT from Equity Resources = 100% Financing.
You work hard and you pay your bills. You want to buy a home, but saving for a down payment is nearly impossible and is taking forever. THIS LOAN IS FOR YOU.
Equity Zero is a truly innovative fixed rate conventional loan coupled with our gift of 3% of the sales price to solve America's #1 obstacle to home buying, the down payment. We have pledged half a million dollars in down payment gifts to help families achieve the American dream today!
Equity Zero is a 97% Loan to Value conventional loan with Equity Resources GIFTING 3% of the sales price to the buyer for the down payment. Along with this, 3% maximum seller contribution is allowed to defray closing costs and prepaid items.
Many Americans are living paycheck to paycheck and haven't been able to save enough money for a down payment. Equity Zero gives them the opportunity to buy their dream home without having a down payment.
This is not like a bond program where the loan needs to wait in line for approval for the down payment assistance. This is our own product. We underwrite in-house. Our average turn time on conventional loans is less than 30 days to closing.*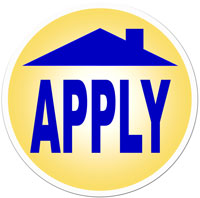 YOU COULD BUY A HOME IN LESS THAN 30 DAYS WITH NO DOWN PAYMENT.*
The 3% down payment is a TRUE GIFT from Equity Resources. There is NO repayment required. No recapture period. No second mortgage. No silent second. It is a straight up gift.
Who is this for?
Buyers with minimum cash available
Buyers with good credit (minimum 680)
Buyers who were considering state bond program grants, loans and down payment assistance
FHA buyers
Millennials seeking to buy a home
First time home buyers
Move Up/Move Down buyers. Current home must be sold before closing on the new home.
Loan Details
1-Unit Single Family Homes (no condos)
15, 20, or 30 years Fixed Rate Mortgage
3% Down Payment – Paid by Equity Resources as a Gift at Closing
Discounted Private Mortgage Insurance (PMI) that can be cancelled after the Loan To Value (LTV) reaches 80% or below
Debt to income: No Maximum with AUS approval, Maximum 43% if Manual Underwrite
Minimum credit score 680
First time home buyers and repeat home buyers
Home buyer education requirement ONLY if ALL borrowers on the note are first time home buyers. Course provided online and free.
Income limits do apply based on property address. Many areas are designated with no income limit. Contact your mortgage specialist for more details!
The Down Payment Gift from Equity Resources is for a LIMITED TIME and will expire when funds run out. We maintain the option to revisit upon expiration and add funds to extend this down payment gift program to further promote home ownership. Don't miss this unique opportunity for FREE Money!
An Ohio sample scenario of the Equity Zero Home Loan: Buy a $300,000 home (Loan Amount $291,000) with a 4.50% fixed interest rate/5.083% APR for 30 years and have a $1,663.60 monthly payment. (Payment is Principal & Interest + Mortgage Insurance, does not include amounts for taxes and insurance premiums.) Equity Resources would give you a gift for the down payment of $9,000. This means ZERO cash is needed at closing. Please contact us for a sample loan scenario in your state.
*Loan process time is not guaranteed. Equity Resources 2017 average turn time on Conventional Home Loans from application date to closing date is less than 30 days.